With 2019 being just around the corner, it's that time to look forward to what new interior design trends we'll be seeing this upcoming year. Here are a few forecasted interior design trends to help inspire transformation to your existing home or help design your soon-to-be new home.
Environment Friendly Products
From live plant walls to energy-saving appliances and recycled home decor, it's all about taking less and giving back to our planet as much as possible. Indoor plants are predicted to never go out of style while helping keep the indoor air clean, regulating humidity, & being an affordable way to add immediate color to your home. The Pilea Peperomioides, Chinese Money plant, and plants with patterned leaves will be a huge hit. Find out how to care for an indoor Pilea Peperomioides, shown in the below photo, by clicking here.
Photo from Garden Beet
Less is More
Clean lines & a minimalist look continue to blaze a path through the interior design world. No upper cabinets in the kitchen is a part of this new trend, along with bold colors on both kitchen cabinetry and kitchen appliances. Use less art pieces on your walls, less pillows on your couch, and minimal, well-selected decor pieces for tables to not overwhelm the room.
Photo from our Bougival model in Giverny's Picasso district
Bar Carts
While bar carts have been a hot item in 2018, they won't be going anywhere in 2019. With the array of bar cart styles & finishes, they are the perfect piece for any home. When entertaining guests, a bar cart allows you to take the party and elegance anywhere inside or outside your home. Not to mention, it's the ideal place to store some of your favorite glassware and bottles. You can purchase the following bar cart from Home Depot by clicking here.
Photo from Home Depot
Black 
Black is popping up across both the exterior & interior. Some are calling it the new gray. It's an exciting color because nothing creates a sense of drama better than black with bold statements in your home. Pair it with white, beige, brown, gold, & warm neutrals. You can incorporate black by selecting black light fixtures, bath & door hardware, windows, plumbing fixtures, countertops, cabinets, home decor, tile, furniture, and so on.
Photo from our client's Regal Home at Cervino
Wallpaper
We've been seeing more & more wallpaper throughout the past few years which will continue to be very on-trend in 2019. We'll be seeing wallpaper w/bold & heavy patterns, large colorful prints, & textured wallpaper that makes a statement.
Photo from our Pablo model in Giverny's Picasso district
Ombre Walls
Ombre in a home's interior is a new trend which is a color transition going from dark to light tones, also known as degradation or gradient. We recommend using an experienced painter to create this look in your home, but if you feel confident in your painting skills, click here to find out how to create an ombre wall yourself. This will catch the eye and add a fun new element of design to your space.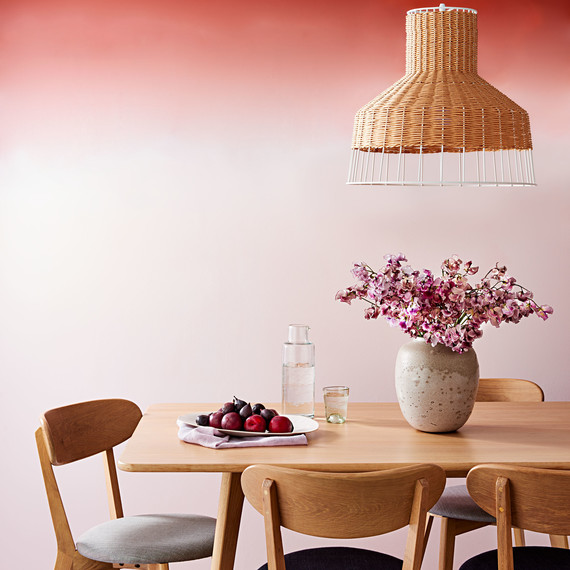 Photo from Chelsea Cavanaugh

 
Come see our Pablo and Bougival models in person at Giverny which are shown in above photos & located on the West side of 9200 S. Wasatch Blvd, Cottonwood Heights, UT 84093. Visit our website by clicking here.